Extend the use of your pool with a Heat Pump.
Auckland Pool Services can install one of a range of pumps designed specifically to heat your pool.
It's vital that you match the correct size heat pump to the correct size pool. Consider what temperature you would like to maintain in your pool as well as how long you want to swim for.  Auckland Pool Services can assist you in your selection of a heatpump for Auckland conditions.
Oasis heat pumps work by capturing ambient heat from the air, similar to air conditioners but in reverse – heating instead of cooling.
Heat pumps use electricity to operate small pumps and fans. No gas or other fuel is used, which reduces your carbon foot print for a more environmentally friendly pool-heating solution.
Each heat pump unit has to undergo rigorous testing and is inspected under a strict quality control environment prior to delivery. You will own one of the most robust, energy efficient heat and cooling systems available on the market today, increasing your swimming period in Auckland.
How Heat Pumps work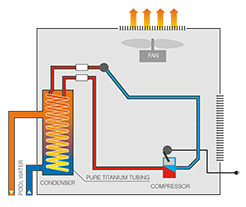 The C series is the top of the line range of heat pumps offered by Sunlover and Oasis.
This supreme unit has an automatic reverse cycle defrost system which allows the unit to operate in temperatures below 0 degrees C. At approximately 10 degrees C, all heat pumps will start to ice up. If the unit is not fitted with a reverse cycle function it will stop operating.
At low ambient air temperatures the OASIS C series will inject warm refrigerant through the coils allowing the ice to melt and the unit will keep operating.
Oasis use ozone friendly and highly efficient R410A/R407 refrigerant to ensure optimum performance. The units are fitted with a world class digital controller to drive the entire system & are reliable and of the highest quality.
The C series units are able to water sample and also have a time clock function to make sure running costs are kept to a minimum.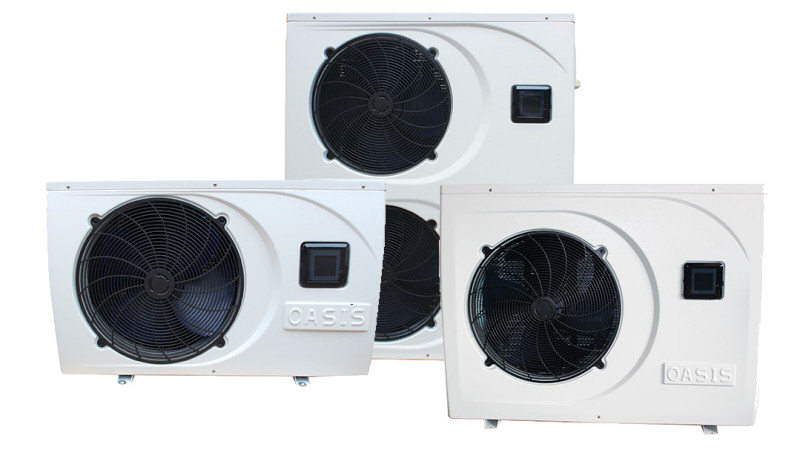 Features & Benefits
Super Quiet
Blue Fin coil protection
Ozone friendly refrigerant
Easy adjustable Electronic control
Carol Controller with water sampling & time click control
Easy installation
Condensate Drain
High efficiency Titanium
Heat Exchanger